Episodes
Thursday Jan 24, 2019
Thursday Jan 24, 2019
This week: Some clips that give us a look into the maw of Right Wing Christian madness.
https://www.patreon.com/theweekindoubt
http://palbertelli.podbean.com
http://www.facebook.com/TheWeekInDoubtPodcast
https://itunes.apple.com/us/podcast/the-week-in-doubt-podcast/id510160837
www.audibletrial.com/theweekindoubt
Twitter: @theweekindoubt
Also available on Stitcher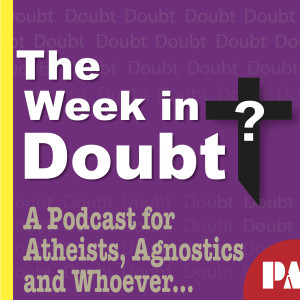 Monday Aug 18, 2014
Monday Aug 18, 2014
This week I present you with a special scripted episode; essentially a mini audio documentary on the subject of failed end times predictions.
As always...thanks for listening!
http://palbertelli.podbean.com
http://www.facebook.com/TheWeekInDoubtPodcast
https://itunes.apple.com/us/podcast/the-week-in-doubt-podcast/id510160837
www.audibletrial.com/theweekindoubt
Twitter: @theweekindoubt
Also available on Stitcher